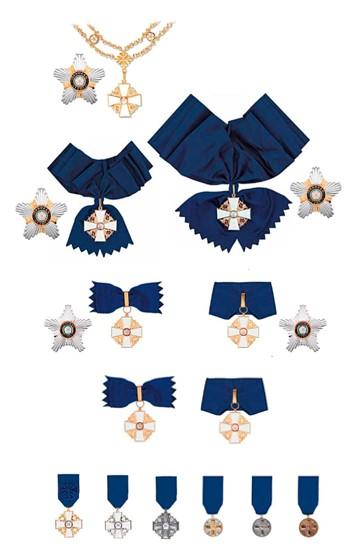 THE FIVE SENIOR DECORATION CLASSES, CROSS OF MERIT AND THREE MEDAL CLASSES OF THE ORDER OF THE WHITE ROSE OF FINLAND (FWR) ARE AS FOLLOWS:
Grand Cross (FWR GC)
Commander First Class (FWR C I)
Commander (FWR C)
Knight First Class (FWR K I)
Knight (FWR K)
Cross of Merit (FWR Cm)
Medal First Class with Gold Cross (FWR M I gold)
Medal First Class (FWR M I)
Medal (FWR M)
The cross size and ribbon width are at their greatest for the Grand Cross and are reduced for the Commander First Class and Commander. The ribbon width for Knights is narrower still, but remains at this width for all decorations down to Medals.
Once the ribbon is sewn in place, the total height of a full-size decoration with its ribbon should be about 10 cm. The corresponding height of miniatures should be about 5 cm.
As an exceptional mark of honour, a decoration may be conferred with a collar (for FWR GC), diamonds or clasp.
The FWR decorations are conferred with swords only for meritorious military conduct in wartime.
GRAND CROSS WITH COLLAR OF THE ORDER OF THE WHITE ROSE OF FINLAND
GRAND CROSS OF THE ORDER OF THE WHITE ROSE OF FINLAND
COMMANDER FIRST CLASS OF THE ORDER OF THE WHITE ROSE OF FINLAND
COMMANDER OF THE ORDER OF THE WHITE ROSE OF FINLAND
KNIGHT FIRST CLASS, KNIGHT AND CROSS OF MERIT OF THE ORDER OF THE WHITE ROSE OF FINLAND
MEDALS OF THE ORDER OF THE WHITE ROSE OF FINLAND
MINIATURES OF THE ORDER OF THE WHITE ROSE OF FINLAND, FROM GRAND CROSS TO KNIGHT
DESIGNATIONS AND RIBBON BARS OF THE ORDER OF THE WHITE ROSE OF FINLAND, FROM GRAND CROSS TO KNIGHT